Welcome to University Centre Services

University Centre - Limited Building Access
---
APRIL 8, 2021:  With the enactment of new provincial shutdown restrictions and stay-at-home order effective at 12:01am on Thursday, April 8, access to the University Centre will be restricted to the following purposes:
To attend a scheduled appointment at the COVID-19 Vaccination Clinic.
To obtain services from a commercial service provider located on the main level.
To obtain take-out food service from Brass Taps Pub (Currently CLOSED until Late-May 2021).
To pick-up mail and parcels from the Campus Mailroom or UC Loading Dock.
For staff members with approval from their supervisors to perform necessary work on-campus.
 
General public access is not permitted in accordance with the announced provincial restrictions and stay-at-home order, except for the purposes forementioned.
All individuals attending the University Centre must complete the COVID-19 Self-Assessment Screening Form prior to arriving on-campus and follow safety measures at all times.

PREVIOUS UPDATES:
MARCH 15, 2021:  The UC welcomes the COVID-19 Community Vaccination Clinic to the main level of the building.  The clinic is operating in partnership with the Guelph Family Health Team (GFHT) and Wellington-Dufferin-Guelph Public Health, with the support of many dedicated departments and campus groups.  The clinic will run from March 15th to August 2021.  There is directional signage and volunteers available to assist you in finding your way, for additional details please visit: www.uoguelph.ca/covid19/vaccination.
During the operation of the clinic, the main floor will be open for the public to access commercial businesses, service providers, and pick-up food service from Brass Taps Pub.  Student study spaces will be closed during the vaccination clinic, the Library has expanded hours to accommodate study needs due to the closure of our spaces.  Please see the traffic flow map below to help navigate your way to available services and amenities.
Parking is available and complimentary at this time for staff, students, and visitors. For information on parking, please visit the Parking Services website. At this time, parking lot P31 (large lot south of the UC) is reserved for vaccination clinic patients only. Visitors requiring accessible parking and patients of service providers may park in P42 (small lot south of the UC), P1 or P4 (located off of Christie Lane next to Conservatory Gardens, west of the UC). Staff and students may park in any red or yellow permit lots, with P9, P10 or P11 being the closest in proximity to the building.
The building is open Monday to Friday from 8am - 5pm for the month of March and April 2021. The following commercial businesses and services are open and accessible:
BRASS TAPS CAMPUS PUB - LEVEL 2:  Online Order & Express Call-In for Pick-Up Available Tuesday to Friday from 12pm – 7pm. Limited dine-in service available. The temporary entrance to the pub is on Level 2, down the hall from the CSA office, follow the signs to find your way to great food! Use the south elevators or stairs for quick access. To order online, go to www.uoguelph.ca/taps.

UC PHARMACY - LEVEL 1: Open Monday to Friday from 10am – 4pm, prescription services and convenience products available. Enter through the northeast doors across from Thornbrough Building. Please call (519) 763-7773 or visit ucpharmacy.ca.

CLICK SIGNS - LEVEL 1: Available for in-person services & appointments by request. Call ahead or visit their website for information and hours. Contact (519) 824-4120 x58031 or visit clicksigns.ca for available services.

CHIROPRACTIC CARE CENTRE - LEVEL 1: Open for appointments, call (519) 767-5070 to schedule a visit.

CAMPUS DENTIST - LEVEL 1: Open and offering dental appointments and check-ups to clients. Please call (519) 836-5801 or visit campusdentist.com

UC VISION OPTICAL - LEVEL 1: For services and to book prescription eye appointments, please contact (519) 824-4120 x56620 or ucvision@rogers.com

EDGE PHOTOGRAPHY - LEVEL 1: Now booking appointments for graduation photos with safety measures in place. Visit www.edgeimaging.ca/en to book an appointment.

CIBC BANK MACHINES - LEVEL 1: ATM machines available during building hours.

STUDENT HEALTH & BENEFITS OFFICE - LEVEL 1: For undergraduate and graduate health and dental insurance and benefit inquiries, please visit mystudentplan.ca.

UC LOADING DOCK - LEVEL 0: The UC Dock Office is open Monday to Friday from 8:30am - 4:30pm for courier parcel and large deliveries. Please call (226) 332-3168 to arrange a pick-up time. General delivery receiving is available Monday to Friday from 6:30am - 4pm, please provide advance notice for all large volume deliveries and items requiring temporary storage.

CAMPUS MAIL ROOM - LEVEL 0: Available for mail and Amazon delivery pick-up Monday to Friday from 8:30am - 3pm. Enter at the southwest doors (by Conservatory Gardens) and take the stairwell or south elevators to Level 0.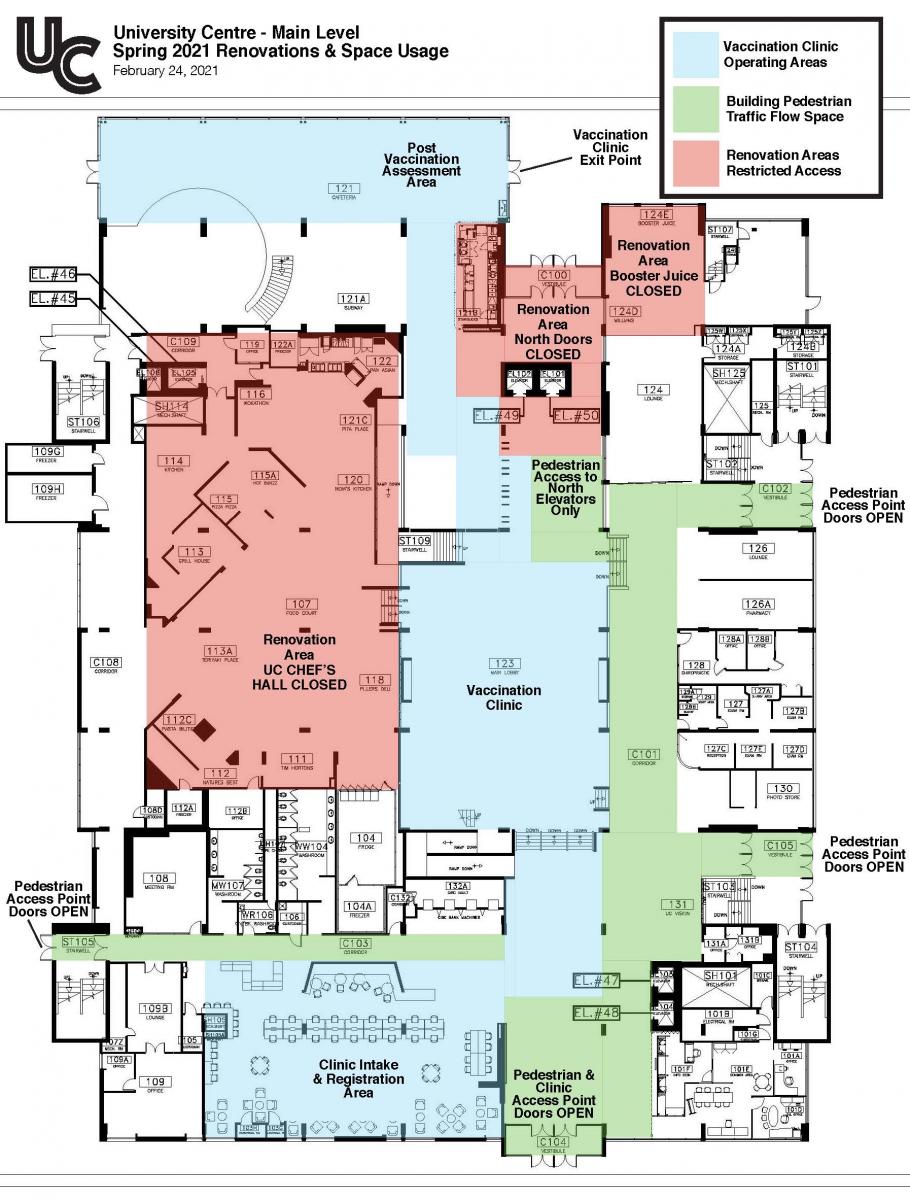 Building Access for Staff & Faculty
---
For staff and faculty members, access to offices and workspaces is limited to individuals who must perform their job duties on-site and have approval from their departmental leader.
Open access to the building is available from 8am - 5pm, Monday to Friday. If you require access to the University Centre for work-related purposes outside of these hours, you may request building access via ID Card by contacting the UC Services team at ucservices@uoguelph.ca. The UC Services team will work with the E-Access Team to arrange temporary access based on the request and authorization from the senior leader or department head. We will confirm your access by email within two (2) hours of receipt of the request. Departments who have multiple staff members requiring access to the building may send the complete list of staff members for access authorization.

E-Access Locations & Building Entry Safety Requirements
E-Access is currently enabled and available via the main level southwest doors (at Conservatory Gardens), the northwest doors (at Hutt Building), or the loading dock service doors.
All individuals planning to attend campus and access the University Centre must complete the following steps prior to arrival on campus:
Complete the COVID-19 Infection Prevention and Control Awareness Training course via CourseLink. Visitors are not required to complete this training.

Consider downloading the Government of Canada's COVID Alert app.

Every day, before you come to campus, complete U of G's COVID-19 Screening Form. Do not come to campus if the form indicates you should stay home. 

If you had close contact with a person suspected or confirmed to have COVID-19 in the past 14 days, do not come to campus.

Bring a face covering (e.g., non-medical mask).
*Regular disinfecting of high-touch surfaces and enhanced safety measures are in place for the protection of all staff, faculty and students. We thank our partners in Custodial Services, Hospitality Services and Campus Police & Fire Prevention as well as our UC staff members for their continuous dedication to making the UC a safe environment for our campus community!
UC Services - Our Services
---
All clients and building user groups who need to contact UC Services regarding access or other building matters can email us at ucservices@uoguelph.ca or leave a voicemail at (519) 824-4120 ext. 53300. For all emergency access requirements, please contact Campus Police at (519) 824-4120 ext. 52245.

Brass Taps Campus Pub - Re-opening February 16th for online ordering take-out service.
Campus Bakery Co. - Available for custom orders only. Individual portioning available for safe measures.
UC Building & Reservation Services - Open Remotely in February 2021 with Limited Service Offerings.
UC Digital Media Services - Campus Digital Broadcasting, Content Media Design & Development available virtually by contacting ucdesign@uoguelph.ca.
Fair November Craft Show - Review this year's Virtually Fair November 2020 and sign-up for future updates for Fair November 2021.
Building Management - Administration & Board Governance
---
University Centre Board & Building Policies - Information on the Board and Policies that govern the building.
Our Managed Spaces *COMING SOON*
UC Student Study Areas - Discover various spaces dedicated to individual study and casual academic collaboration.