---
University Centre - Fall 2021 Semester
---
The University Centre Services team is working hard to prepare the building for a successful and dynamic fall semester. Common areas, study lounges, meeting rooms, and many operational services will be open and ready to serve our returning students, staff, faculty and visitors with enhanced cleaning and safety measures in place.

The University Centre is OPEN to support our students, staff, and faculty members over the Fall 2021 semester. While many services continue to offer virtual services online, several amenities including student study lounges, meeting and event spaces, commercial business providers, and food and beverage outlets (including Brass Taps Pub, The Lookout Patio + Grad Lounge) are open and ready to serve you. Please check with the specific service provider to confirm in-person hours of operation and follow safety protocols prior to arriving on campus and accessing the University Centre, including:
Complete the University's COVID-19 Screening Form

[1]

prior to arriving on campus.
Wear a face mask at all times when occupying the University Centre unless actively consuming food and/or beverages.
Maintain physical distancing in all interior spaces.
Check the University's COVID-19 Information Website

[2]

for safe practices, available services and other information to plan your visit in advance.
Please be respectful to your fellow Gryphons and observe safety measures at all times. We are all in this together!
Meeting Room & Event Bookings
---
Select University Centre meeting rooms and event spaces will be available for limited, approved bookings over the winter semester. In order to accommodate in-person meeting, activity, or event booking requests, authorization and approval must be received by the department head or dean of the sponsoring group prior to confirming booking details. All meeting spaces are sanitized and cleaned prior to and after all bookings to ensure safety measures are in place at all times.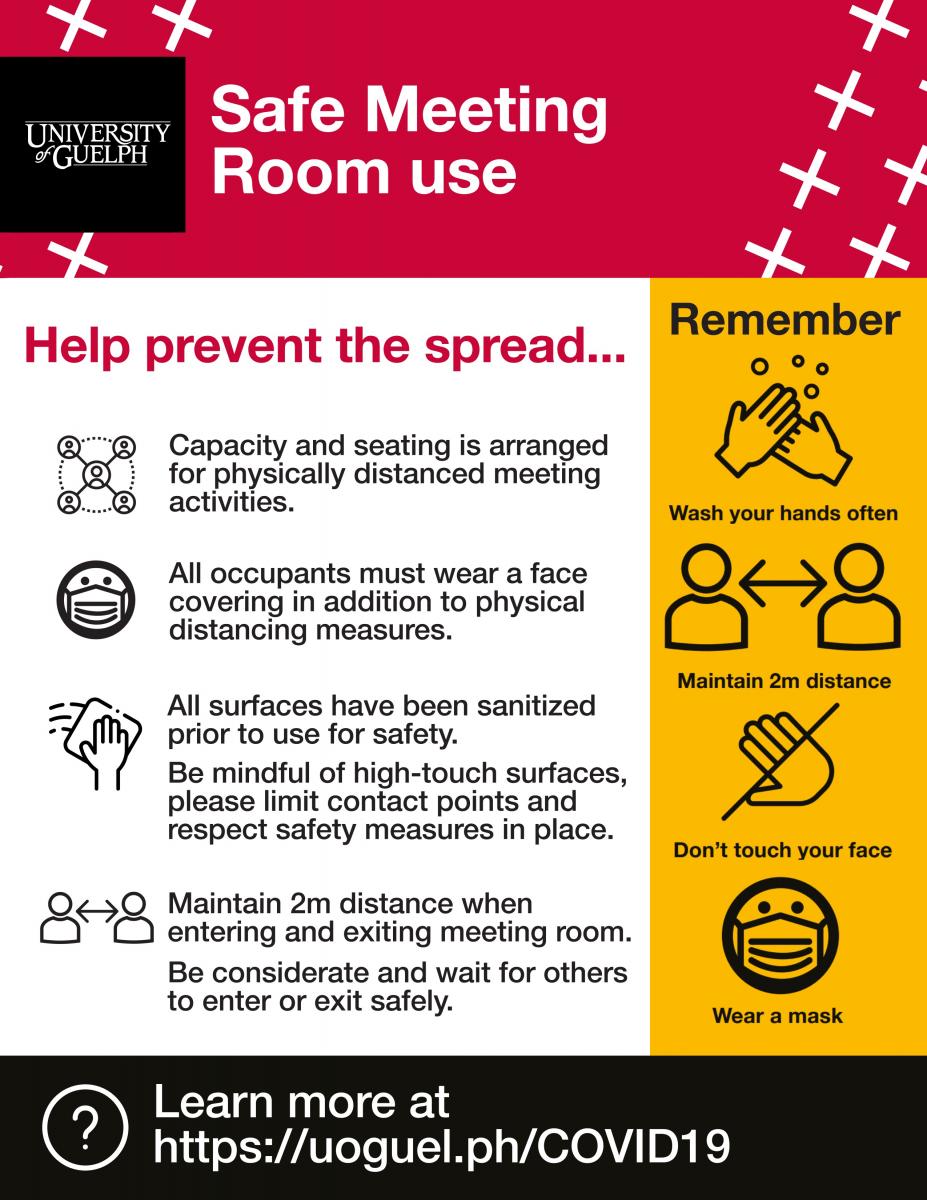 UC Food & Beverage Service
---
UC Services is available to provide individually packaged food and beverage service along with full event planning support in The Brass Taps Campus Pub, Peter Clark Hall, and all Bookable Meeting Rooms within the University Centre. We are committed to quality and ensuring your event is a great success. Check out our UC Events Menu below (Coming September 8th) for our complete offerings and feel free to contact us [3] for additional information or to book your event.
Reservation Inquiries
---
Looking to make a reservation? Our University Centre Services Guide has complete information on our rooms and amenities. To inquire or reserve a room, please contact us at:
(519) 824-4120 x58384
ucreserv@uoguelph.ca [4]